Posts for tag: Teeth Whitening
By O'Neill Family Dentistry
July 08, 2020
Getting your teeth whitened professionally can be a life-changing experience. Whiter teeth are associated with youth, health, vitality and even your level of professionalism in the workplace. Your dentist have the ability to improve the appearance of your teeth by up to eight shades in one short visit. Explore the following FAQs about teeth whitening so that you can decide if this cosmetic treatment is right for you.


Why is Professional Teeth Whitening the Best Option?
Over the counter whitening products are convenient but problematic for a number of reasons. For one, they take a long time to show results (sometimes weeks or months), if they ever do. Whitening kits that come with trays are ill-fitting and uncomfortable to wear for extended periods of time. When you have your teeth whitened professionally, the treatment is finished within one day, in one appointment. There's no need to disrupt your schedule by wearing a tray every day and little to no concerns about irritation of the gums since the procedure will be handled by a skilled dentist.

Who Is a Candidate?
Any patient with generally good dental health may be a candidate for professional teeth whitening. Keep in mind that some patients aren't eligible for this treatment because they have stains that can't be cleared with whitening gels. This is the case when the stain is "intrinsic," which means the discoloration is at the inner layer of the tooth. You dentist can tell you if your teeth can be successfully whitened at your initial consultation.

What Will Happen at the Whitening Appointment?
Set aside at least an hour of your time for your teeth whitening appointment. You'll sit back in your chair as the dentist inserts a device to keep your lips separate from your teeth then applies the gel. You'll wait for anywhere between 60-90 minutes until the whitening effect has set in. Many patients choose to have this treatment performed on a lunch hour.

How Long Will the Teeth Stay White?
You can expect to enjoy your new whiter smile for about one to two years or longer. The length of time your smile will last depends on you and your dental habits. If you go back to eating the same foods and drinking the same beverages that stained your teeth in the past, the problem is likely to return more quickly. Use a straw, brush regularly and see your dentist for cleanings twice per year.
Contact Your Dentist

You will be happy with the way that your smile looks after going to your dentist for a teeth whitening treatment. If you have more questions, call for an appointment today.
By DR. KRIS O'NEILL
January 21, 2019
How your cosmetic dentist in Columbia, South Carolina, can give you a great smile
Are you happy about your smile, or could it use a little improvement? You may think you are stuck with the smile nature gave you, but that's not true! With the help of cosmetic dentistry from Dr. Kris M. O'Neill in Columbia, SC, you can finally obtain the smile you deserve!
Consider just a few of the many cosmetic dentistry procedures designed to create a great smile:
Professional Teeth Whitening
With the help of this treatment, you can brighten your dull, aging smile by up to 8 shades whiter with results that can last up to 5 years! You can't always count on unreliable over-the-counter whitening products, but you can count on professional teeth whitening to be the safe, effective way to get a brilliant smile. From her Columbia office, Dr. O'Neill offers convenient take-home whitening kits that allow you to brighten your teeth at home.
Porcelain Veneers
Veneers hide both minor and major aesthetic issues like cracks, fracture lines, chips, tooth wear, and other bothersome problems, all while giving you a perfectly beautiful smile that is still uniquely yours. Porcelain reflects light and repels stains, so your veneers will look natural and stay beautiful for years.
Invisalign
Straighten your smile more quickly, easily, and comfortably than you have ever thought possible! Unlike other, longer, orthodontic options, this treatment only takes between 9 and 15 months to complete. It's also the most discreet form of orthodontics because the system uses clear plastic trays which are virtually invisible to people around you.
Cosmetic dentistry procedures can improve your smile and give you the great look that you deserve! You just have to get started by calling Dr. Kris M. O'Neill in Columbia, South Carolina. Give yourself the gift of a great smile by calling Dr. O'Neill today!
By Dr. Kris O'Neill
November 18, 2018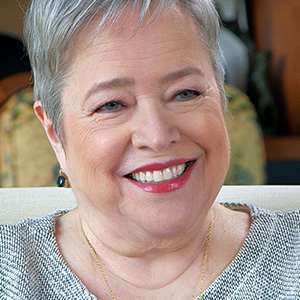 Academy Award-winning actress Kathy Bates knows how important it is to present your best face to the world — and one of the most important features of that face is a beaming smile. But there came a point when she noticed something was a little off. "I've always had good teeth, but it seemed to me as I was getting older that they weren't looking as good," Kathy explained in a recent interview with Dear Doctor magazine.
That's when she decided it was time to take action. Kathy had orthodontic treatment when she was in her fifties, and she keeps her smile bright with tooth whitening treatments. She uses a kit provided by her dentist with a safe, effective whitening solution.
Of course, a bright, healthy smile looks great anywhere — whether you're on the red carpet or "off the grid." And you don't have to be a Hollywood star to have professional whitening treatments. In fact, teeth whitening is one of the most popular and affordable cosmetic treatments modern dentistry offers.
The basic options for professional teeth whitening include in-office bleaching or take-home kits. Both types of dentist-supervised treatments offer a safe and effective means of getting a brighter smile; the main difference is how long they take to produce results. A single one-hour treatment in the office can make your teeth up to ten shades lighter — a big difference! To get that same lightening with at-home trays, it would take several days. On the plus side, the take-home kit is less expensive, and can achieve the same results in a bit more time.
It's important to note that not all teeth can be whitened with these treatments. Some teeth have intrinsic (internal) stains that aren't affected by external agents like bleaches. Also, teeth that have been restored (with bonding or veneers, for example) generally won't change color. And you can't necessarily whiten your teeth to any degree: Every tooth has a maximum whiteness, and adding more bleach won't lighten it beyond that level. Most people, however, find that teeth whitening treatments produce noticeable and pleasing results.
What about those off-the-shelf kits or in-the-mall kiosks? They might work… or they might not. But one thing's for sure: Without a dentist's supervision, you're on your own. That's the main reason why you should go with a pro if you're considering teeth whitening. We not only ensure that your treatment is safe — we can also give you a realistic idea of what results to expect, and we will make sure that other dental problems aren't keeping you from having a great-looking smile.
How often does Kathy Bates see her dentist for a checkup and cleaning? "I go about every four months," she noted. "I'm pretty careful about it." And if you've seen her smile, you can tell that it pays off. If you would like more information about teeth whitening, please contact us or schedule an appointment. You can learn more in the Dear Doctor magazine articles "Important Teeth Whitening Questions Answered" and "Teeth Whitening."