Posts for: February, 2018
By Dr. Kris O'Neill
February 17, 2018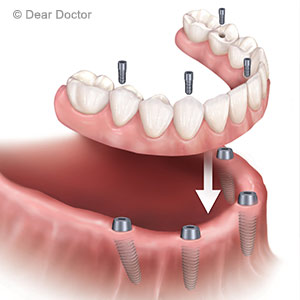 You may be familiar with a dental implant used to replace a single tooth — but implant technology can do much more. Implants can also support other restorations including total teeth replacement on a jaw.
The reason they're so versatile is because implants replace the tooth root as well as the visible crown. We use a metal post, usually made of titanium, which we surgically implant in the jawbone as a root substitute. Because of a special affinity with titanium, bone around the implant grows and adheres to it and creates a durable bond.
With a single tooth replacement (the implant's original purpose when they were introduced in the 1980s) we attach a life-like porcelain crown to the individual titanium post. But with their continuing development we've adapted implants for other applications, like using a few strategically-placed implants as a stable platform for removable dentures or fixed bridges.
We're now able to use implants to support a full prosthetic (false) dental arch. Though similar in appearance to a removable denture, this particular prosthesis is permanently joined to the supporting implants with retaining screws.
Of course, the application requires careful pre-planning, which includes making sure you have enough healthy bone to support the implants. We'll also need to determine how many implants you'll need (usually four to six for this application) and create a surgical guide to place them in the best location for supporting the prosthesis. A dental technician will then create the prosthesis to match your jaw ridge contours and facial structure.
Using implants this way has a benefit other types of restorations can't provide: they may help stop future bone loss. The jawbone life cycle depends on stimulation from the attached tooth as you bite and chew — stimulation that ends when you lose the tooth. Traditional dentures and other restorations can't replicate that stimulation. Implants, on the other hand, directly encourage bone growth and can stop gradual bone loss.
If you need some form of total teeth replacement, consider one supported by implants. You may find they'll provide an excellent long-term solution to both function and appearance.
If you would like more information on the different applications for dental implants, please contact us or schedule an appointment for a consultation.
By Dr. Kris O'Neill
February 02, 2018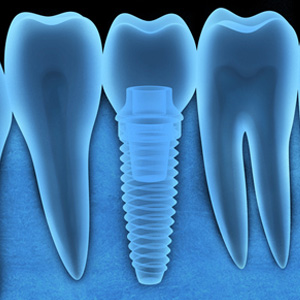 Dental implants are today's closest restorative facsimile to natural teeth. And they're versatile: not only can they replace single teeth but they can also support bridges or dentures.
But since one of their crucial components is made of metal, are you out of luck obtaining this state-of-the-art dental restoration if you have a metal allergy?
The answer is: probably not—it's rare for implants to cause an allergic reaction. Still, metal allergies can be a potential problem within your mouth as with other areas of health.
An allergy originates from the body's necessary response to potentially harmful microorganisms or substances. Sometimes, however, this response becomes chronic and exaggerated, creating an allergy. People can have allergies to nearly anything with responses ranging from a minor rash to a potentially life-threatening multi-organ system shutdown (anaphylactic shock).
A small number of people have allergies to particular metals. One of the most common is nickel, which affects an estimated 17% of women and 3% of men; cobalt and chromium are also known to cause allergies. Consumer exposure, particularly metal contact with the skin through jewelry or clothing, is the most prevalent, but not the most concerning. That's reserved for metal allergies related to medical devices like coronary stents or hip and knee prostheses. And in dentistry, there are rare occasions of inflammation or rashes from metal amalgam fillings.
Which brings us to dental implants: the main metal post that's inserted into the jawbone is usually made of titanium. It's the metal of choice for two reasons: it's bio-compatible, meaning the body normally accepts its presence; and it's osteophilic, which means bone cells readily grow and adhere to it, a major reason for implant durability.
While it's possible for someone to have an allergy and subsequent reaction to implants with titanium, the occurrences appear to be extremely low. In one study of 1,500 patients, titanium allergies were estimated to be a factor in implant failures in less than 1% of those studied.
Even so, if you have known metal allergies you should make sure your dentist knows. Being aware of all the facts will help them recommend the best tooth replacement choice for you—and hopefully it will be dental implants.
If you would like more information on dental implant restorations, please contact us or schedule an appointment for a consultation. You can also learn more about this topic by reading the Dear Doctor article "Metal Allergies to Dental Implants."